Worcester City Amateur Boxing Club

News
Contact Details
Worcester City ABC, Unit 5 Three Springs Trading Estate, Vincent Road
Worcester, WR5 1BW - Matchmaking Enquiries - 07532 15056 - Tues & Thurs 6-8pm
Worcester City ABC Light Welterweight Trent Smith beat Liam Loughran of Hemel Hempstead ABC to claim a place in the quarter finals of the CYP's.
Boxing in London, this was Smith forth victory on his road for national honors in this years tournament. Smith struggled at first against the much taller Loughran and was out jabbed to lose the first round. From the start of the second through to the final bell, Smith gave his opponent no rest. Hard and fast combinations to both body and head began to wear the Hemel boxer down. At the end of the second, a jarring right hook from Smith tore into the body of Loughran. He returned to his corner in some discomfort.
Delaying tactics from the Hemel corner with spilt water could not prevent the Worcester fighter from continuing his onslaught. Loughran received two public warnings for holding has he tried to calm the storm.
A unanimous verdict was returned by the judges for Smith to book a place against Nathan Watson from Northern Ireland in the quarter finals.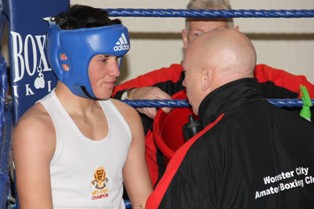 .