Worcester City Amateur Boxing Club

News
Contact Details
Worcester City ABC, Unit 5 Three Springs Trading Estate, Vincent Road
Worcester, WR5 1BW - Matchmaking Enquiries - 07532 15056 - Tues & Thurs 6-8pm
Worcester City Amateur boxers were in action recently at Warwick.
All three representing the club boxed extremely well and were a great credit to the club. They were all matched against opponents from the hosts Clareys Gym, based in Warwick.
Taking part in his first outing was schoolboy Dan Lloyd, who was up against Reece Clarey in a three round skills contest.
Both boxers showed great ability in an evenly matched opener. At the scales there was over two kgs different in favour of Clarey so the coaches decided on a skills bout. This gives the youngsters the opportunity to display their skills without the added pressure of a result. Pretty much a exhibition sparring session in front of a large crowd. The referee controls proceedings and if required will calm things down. No need for any intervention during this one with both exchanging fast correct punching.
Next up for Worcester was Junior Grant Attwood, who faced Cale Sunner in a fiercely fought battle. With neither boxer giving any quarter, Attwood boxed superbly behind a tight defence. Great crowd pleasing toe to toe action saw Attwood coming off the better against a very strong Sunner. The audience rose at the final bell to applaud the two warriors in what was arguably to best bout of the evening. Attwood was declared the winner by way of a unanimous decision.
Featherweight Jon Roberts returned to winning ways by outpointing Navjot Singh. A more measured approach from Roberts delivering his best work when trapping his opponent on the ropes. A focused Roberts concentrated more on point scoring with straight punches, building up a healthy lead by round three. The Cleary's boxer was beaten to the jab on numerous occasions, resulting in a unanimous points margin.
The pair are programmed to meet this Friday to settle an eliminator for the All Midland under 60Kg belt. Roberts is confident of a repeat performance.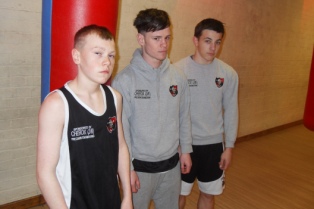 .